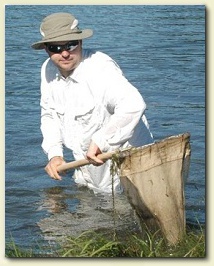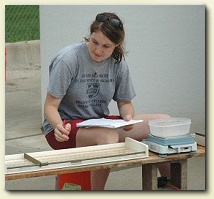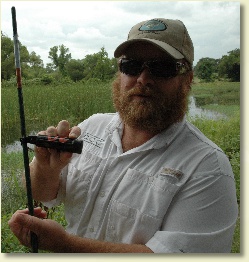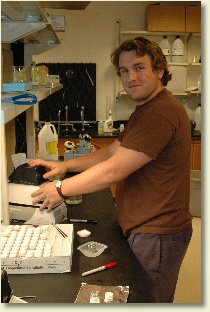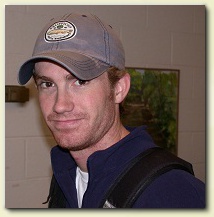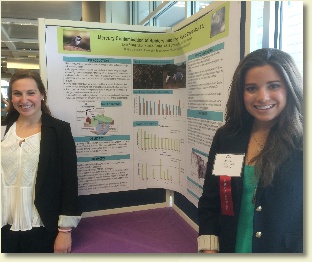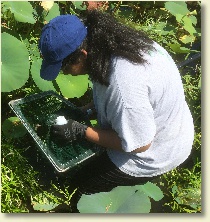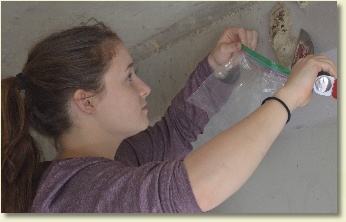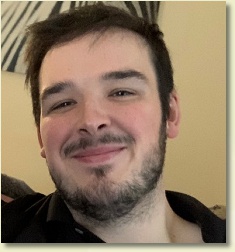 Students and Alumni

Future Students

Copyright
2020 Matt Chumchal
Texas Christian University
2800 S. University Dr.
Fort Worth
,
Texas 76129

Current Graduate Students

Kimberly Adams, MS -2015
Thesis:
Effectiveness of fish consumption advisories for mercury in the South Central US.

Kimberly is currently working for Disney in Florida.


Frank Greenhill, MS -2015
Thesis:
Insect emergence from temporary and permanent ponds: Response to drying.

Frank is currently a Stormwater Program Technician for the City of Bozeman, Montana.


Gretchen Gann, MS -2014
Thesis:
Risk to birds from mercury-contaminated spiders at Caddo Lake.

Gretchen is currently an instructor in the Biology Department at the University of Texas, Arlington where she teaches Plant Science, Cell and Molecular Biology for Nursing, and Cell and Molecular Biology.

Welcome to the website of the Aquatic Ecology Lab at TCU. Most of the research conducted in our lab is related to mercury contamination of the environment, currently one of the world's greatest threats to wildlife and human health. Our lab works on a variety of mercury-related topics from environmental factors influencing the spatial patterns of mercury in fish to mercury flux from aquatic to terrestrial foodwebs via emergent aquatic insects. Our studies are conducted at our experimental mesocosm and pond facilities and field study sites including the LBJ national grasslands and Caddo Lake (click here to read more about these research sites). Typically, 2-3 graduate students and 5-6 undergradate students work in our lab at any given time.

The Biology Department offers a masters degree. Our MS students are paid ($16,500 nine month salary) to serve as teaching assistants in the Biology Department. All tuition and fees are waived for teaching assistants. Graduate students also receive $3,500 of summer salary support to conduct their MS research. The department provides $1,000 of travel support for graduate students to present their research at a scientific meeting. Most of our graduate students finish their degree in two years, publish their research in scientific journals (click here for a list of publications with our graduate students) and go on to successful careers in the field of ecology and environmental science (see lab alumni below).

We encourage prospective students to contact us to discuss research opportunities in our lab. Better yet, make an appointment and come meet us in person and see our lab and the department.

Graduate Student Alumni
(2005 - present, see publications for where their theses were published)

Brent Tweedy, MS -2013
Thesis: Effects of fish on mercury transport by emerging insects.
Brent is a currently a science librarian at the University of Oklahoma.

Cleveland Powell, MS -2014
Thesis:
Mercury contamination in aquatic and terrestrial consumers from Caddo Lake.

Cleve is currently working as a Riparian Vegetation Technician for the San Antonio River Authority, San Antonio.


Gary Cocke, MS -2013
Thesis:
Top down and bottom up effects on emergent insect mercury flux from experimental ponds.

Gary is currently the Sustainability Coordinator at the University of North Texas, Denton, Texas.

Christina Jones Osterlund, MS -2013
Thesis:
Mercury contamination of fish in the Mississippi River Valley.

Christina is now a Scientist II at Atkins


Taylor Jones, MS -2013
Thesis:
Top down and bottom up effects on emergent insect mercury flux from experimental mesocosms.

Taylor is currently an Air Emissions Compliance System Specialist, Environmental Systems Corporation, Austin, Texas

Jacob Wadlington, MS -2011.
Thesis:
Mercury in game fish from North Texas reservoirs.

Jacob is currently a Business Development Representative with Alpha Testing, Inc.


Byron Henderson, MS -2010
Thesis:
Mercury contamination of macroinvertebrates from ponds

with and without fish at the LBJ National Grassland.
Byron is currently a Land and Regulatory Analyst, Mack Energy Corporation & Silver Oak Energy, LLC.


Brad Blackwell, MS - 2008
Thesis:
Mercury contamination of macroinvertebrates in ephemeral grassland ponds.
Brad recently received his PhD in Civil Engineering from Syracuse University. The title of his PhD dissertation was "Deposition and fate of atmospheric mercury in forested ecosystems of the Adirondack Park." Brad is currently an ORISE Postdoctoral Research Participant at the United States Environmental Protection Agency, Gulf Ecology Division, Gulf Breeze, FL.

Jaron Hill, MS -2007.
Thesis: Use of preserved museum fish to evaluate mercury contamination in two Oklahoma rivers.
Jaron is currently a Senior Environmental Specialist at Tapstone Energy, LLC, Oklahoma City, Oklahoma.

William C. McClain, MS - 2005
Thesis: Mercury concentrations in seven species of fish from Lake Meredith, Texas.
Bill is currently Sustainability Coordinator and Science Teacher, St. George's High School, Collierville, TN.

Amanda Davis, MS -2005
Thesis: Mercury concentrations in largemouth bass in North Texas reservoirs.
Amanda currently works at the US Corps of Engineers, Fort Worth.

Matt Drenner, MS - 2008
Thesis:
Crustacean zooplankton community structure in temporary and permanent ponds in a Texas grassland.

Matt received his PhD in 2015 while working in the Pacific Salmon Ecology and Conservation Lab of Dr. Scott Hinch at the University of British Columbia. His PhD dissertation focused on relating environmental marine conditions with adult sockeye salmon behavior and physiology in coastal waters of British Columbia, Canada. He is now a Senior Fish Biologist at Cramer Fish Sciences in Gresham, Oregon.


Michael Sawey, MS -2008.
Thesis:
Habitat-specific differences in mercury concentrations of Mississippi grass shrimp from Caddo Lake, Texas.

Michael is currently an Instructor at TCU teaching Contemporary Issues in Biology.

Maddy Hannappel, MS -2019
Thesis:
Effects of body size on methyl mercury concentrations in shorelines spiders: Implications for their use as sentinels

Maddy is a PhD student at the University of North Texas.


Tom Thalhuber, MS -2019
Thesis:
Mercury in red-winged blackbirds
Tom is a research technician at the Tarrant Regional Water distrcit.


Chris Gerstle, MS -2018
Thesis:
Risk assessment of consuming mercury-contaminated fish to birds in the southern US.
Chris is a PhD student at North Carolina State University.

Celeste Ortega-Rodriguez, MS - 2017
Thesis:
Mercury contamination of eight taxa of shoreline spiders and possible risk to arachnivorous songbirds.

Celeste is an instructor at Tarrant County College.


Eddie Williams, MS -2016
Thesis:
Effects of Season and Pond Permanence on Odonate-Mediated Methyl Mercury Flux.

Eddie is currently working out of San Diego, CA as a Wind Farm Biomonitor for WEST, Inc.

Andrew Todd, MS in progress

Andrew joined the lab in Fall 2020. His thesis focuses on mercury accumulation in spiders.

Ryan Seymour, MS - 2020
Thesis: Health risk of methyl mercury contamination of Largemouth Bass (Micropterus salmoides) in the southeastern United States